Members of ASAN's Board of Directors
Victoria M. Rodríguez-Roldán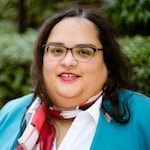 Victoria M. Rodríguez-Roldán, ASAN's Board Chairperson, is the Senior Policy Manager for AIDS United, where she brings her own unique intersectional specialties to the fight against the HIV epidemic. Particular areas of expertise and focus are the intersections of issues affecting people living at the intersections of transgender identity, disability and mental illness through a social justice lens. She frequently speaks on discrimination issues impacting the trans and disability communities. She has been profiled in multiple national media outlets and has been published in multiple academic journals. Prior to joining AIDS United, she was senior policy counsel at the National LGBTQ Task Force where she led the Trans/GNC Justice Project and the Disability Justice Project. She currently serves in the board of directors of the Autistic Women and Non-Binary Network, of HIPS, an organization dedicated to harm reduction for sex work and drug use in the District of Columbia, of Equality New York, the Empire State's leading LGBTQ equality organization. Victoria holds a B.A. in psychology with honors from the University of Puerto Rico, and a J.D. from the University of Maine School of Law. She lives in the Washington, DC area.
Hari Srinivasan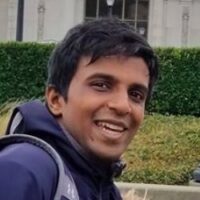 Hari Srinivasan, ASAN's Board Vice-Chairperson, is a minimally-speaking autistic who types communicate. He learned to type and thus communicate only at age 13. The ability to communicate opened up access to mainstream education allowing him to transition from the special education straight into the mainstream academics world of Algebra, Biology and Shakespeare which he thoroughly relished and graduated as valedictorian from his high school. Srinivasan loves to write and has won many writing awards for his essays and creative writing like poetry, including a National Gold Medal Medal from Scholastic which he received at Carnegie Hall and was subsequently published by Scholastic.
Srinivasan is currently pursuing psychology at UC Berkeley with a minor in Disability Studies. He is a member of the Psi Chi Honor Society. Srinivasan hopes to pursue research such that it will benefit and improve the quality of life of individuals with disabilities like him. He has been honing his research skills as a research assistant at the Hinshaw lab and currently at the Golden Bear Mood and Sleep Research Clinic as well as the Nakamura Disability Lab. Ultimately he would like to work with non-profits, national/international organizations or think tanks while pursuing his love of writing.
At UC Berkeley, Srinivasan is a senior staff writer at the Daily Californian which is the newspaper on record for both the city of Berkeley and for the university. His work has included a weekly column on Autism and covers both disability and non-disability issues. Srinivasan has also been the lead student instructor for a faculty-sponsored semester-long 1-unit course on autism since spring 2019. He is constantly looking to drive the curriculum to expand the way 25 neurotypical students each semester will come to regard autism and all the issues around it. Srinivasan is a board member for the student organization, Spectrum At Cal, which works towards community volunteering and campus autism awareness program. Srinivasan is also actively involved with other disability organizations on campus.
Srinivasan is a 2019 alum of ASAN's Campus Inclusion program where he learned about autistic identity and disability justice. He highly encourages other college-going autistics to apply for the program.
Meg Evans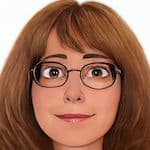 Meg Evans, ASAN's Board Secretary, is employed in the legal publishing industry with LexisNexis and lives in the Dayton, Ohio area. She received her J.D. from Case Western Reserve University in Cleveland, Ohio, and her B.A. from the University of California at Santa Barbara.  Meg is married and has two grown children.  She enjoys sculling and competes in regattas; her favorite event is rowing the mixed double with her husband.  She currently serves as the webmaster for the Greater Dayton Rowing Association.
She belongs to a multigenerational Autistic family and envisions a world in which respect for human rights and diversity can flourish. Among her interests, she has long found it fascinating to explore how our cultural narratives change over time and shape the development of social structures and expectations. Meg has written many articles for ASAN's websites and publications.  Her stories and musings on modern life can be found on her personal blog at http://megevans.com and include Nurturing Thursday posts, with a focus on self-nurturing and positive energy.
Sarah Pripas-Kapit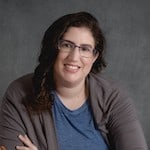 Sarah Pripas-Kapit, ASAN's Board Treasurer, is an author of books for young readers. Her first two books, Get a Grip, Vivy Cohen! and The Many Mysteries of the Finkel Family, were published by Dial Books for Young Readers, an imprint of Penguin Random House. Sarah's work prominently features autistic girls and other characters with disabilities. Get a Grip, Vivy Cohen! was named a 2020 Schneider Family Honor title for representation of people with disabilities and received multiple starred reviews in trade publications. Chicago Public Library named it one of the best middle-grade books of 2020.
Since 2016, Sarah has served as Chairperson of the Association for Autistic Community, a nonprofit organization that organizes in-person retreats for autistic people. Sarah has been involved with the autistic community in some capacity since 2006. In her fiction, Sarah wants to bring the principles of the neurodiversity and disability rights movements to young readers. In her capacity as an author, Sarah mentors aspiring authors. She is particularly interested in helping disabled writers and others from marginalized communities to break into the industry.
Sarah holds a PhD in History from the University of California Los Angeles, where she also received a Graduate Certificate in Gender Studies. She has written about the intellectual history of the neurodiversity movement.
Ari Ne'eman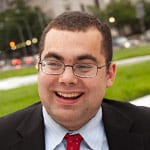 Ari Ne'eman is the co-founder of the Autistic Self Advocacy Network and served as its President from 2006 to 2016. He currently serves as Chief Executive Officer of MySupport.com, an online platform designed to empower seniors and people with disabilities to self-direct their own services. In 2009, President Obama nominated Ari to the National Council on Disability, a federal agency charged with advising Congress and the President on disability policy issues. He was confirmed by the Senate in July 2010 and served until 2015, during which time he chaired the Council's Committee on Entitlements Policy. From 2010 to 2012, he served as a public member to the Interagency Autism Coordinating Committee, a Federal advisory committee that coordinates all efforts within the Department of Health and Human Services concerning autism. Ari also served as an adviser to the DSM-5 Neurodevelopmental Disorders Workgroup convened by the American Psychiatric Association. He previously served as a member of the National Quality Forum's Workgroup on Measuring Home and Community Based Services Quality and the Department of Labor's Advisory Committee on Increasing Competitive Integrated Employment of People with Disabilities.
He previously served as Vice Chair of the New Jersey Adults with Autism Task Force, where he represented autistic adults in reviewing the state's autism services. He also previously served on the New Jersey Special Education Review Commission, where he authored a minority report on the topic of aversives, restraint and seclusion. He is also a board member of the American Association of People with Disabilities and the World Institute on Disability. In addition, he was named by the New York Jewish Week as one of their "36 by 36″ in 2010. He has a bachelor's degree from the University of Maryland-Baltimore County, where he studied political science in the Sondheim Public Affairs Scholars Program.