Last week, ASAN sponsored Elly Wong, an incoming freshman at Syracuse University, to attend the First Lady's Beating The Odds summit as part of the #ReachHigher initiative. Here is what Elly had to say about the experience: 
The White House, evidently, believes in us.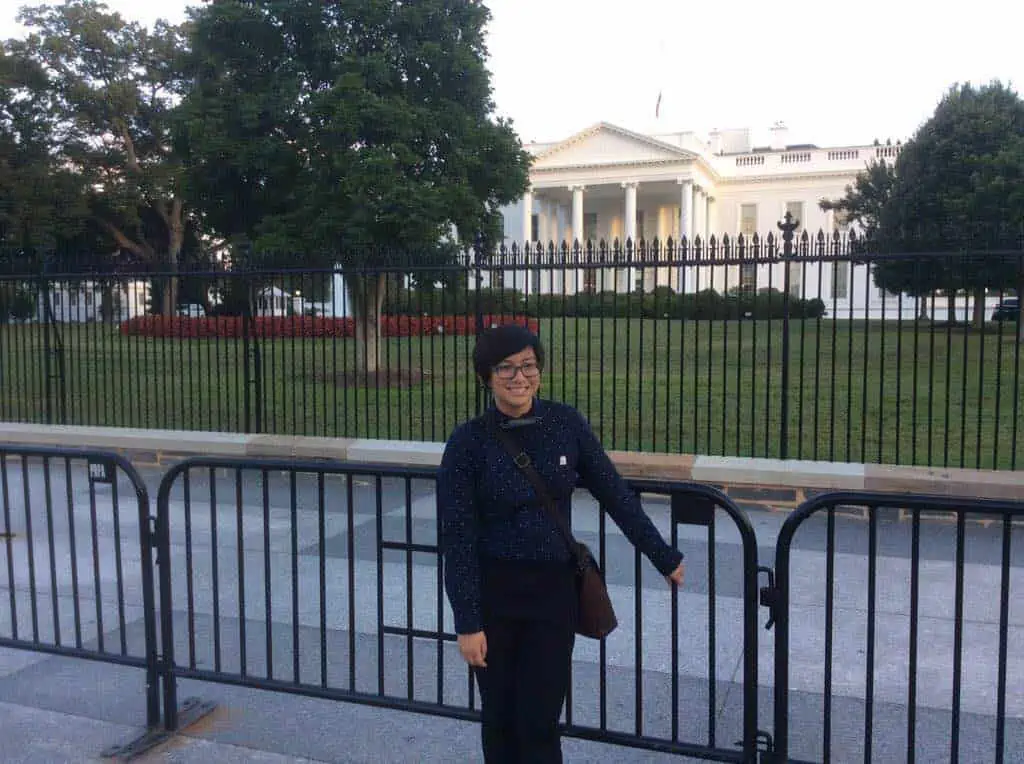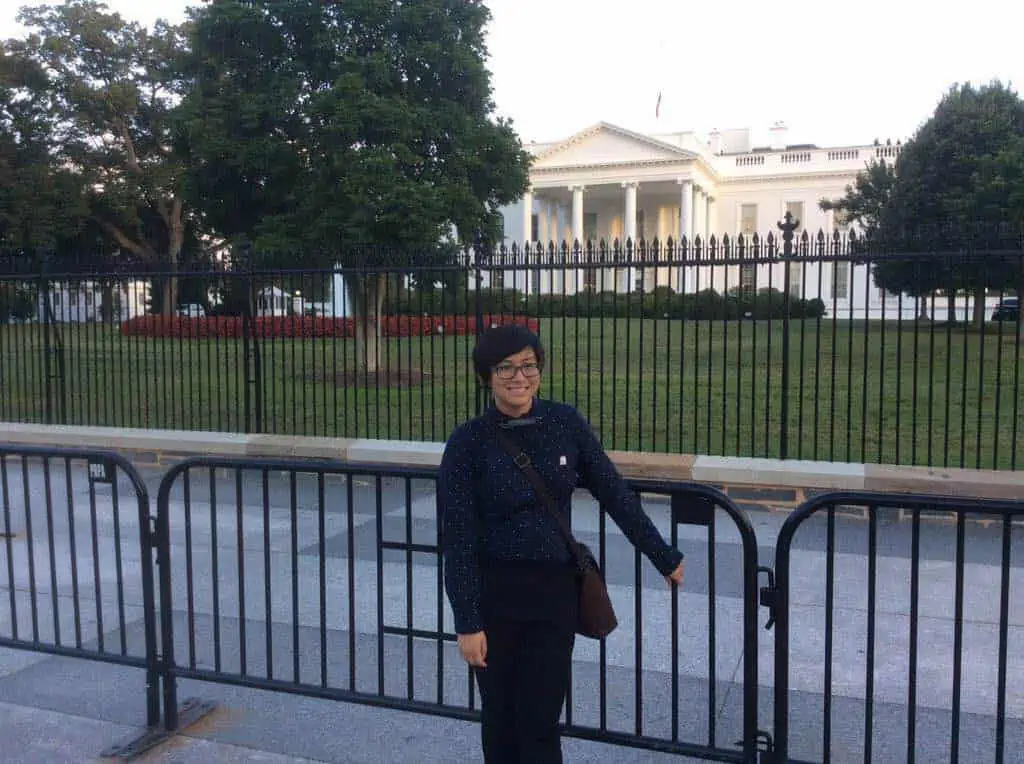 [A person named Elly Wong stands in front of the White House.]
Us being college students who are first-generation, people of color, disabled, low-income. College students who weren't supposed to even get this far, who Reached Higher. It is, after all, named the Beating the Odds summit.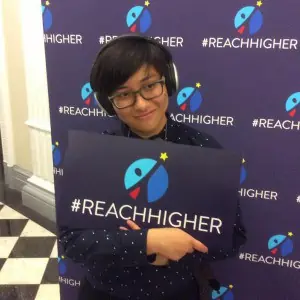 [Elly smiles and holds up a sign with the logo for the #ReachHigher campaign.]
What they wanted us statistical improbabilities to get out of this summit, besides nice pictures of the White House, seems to be a healthy "fight me" attitude and the nerve to ask for help.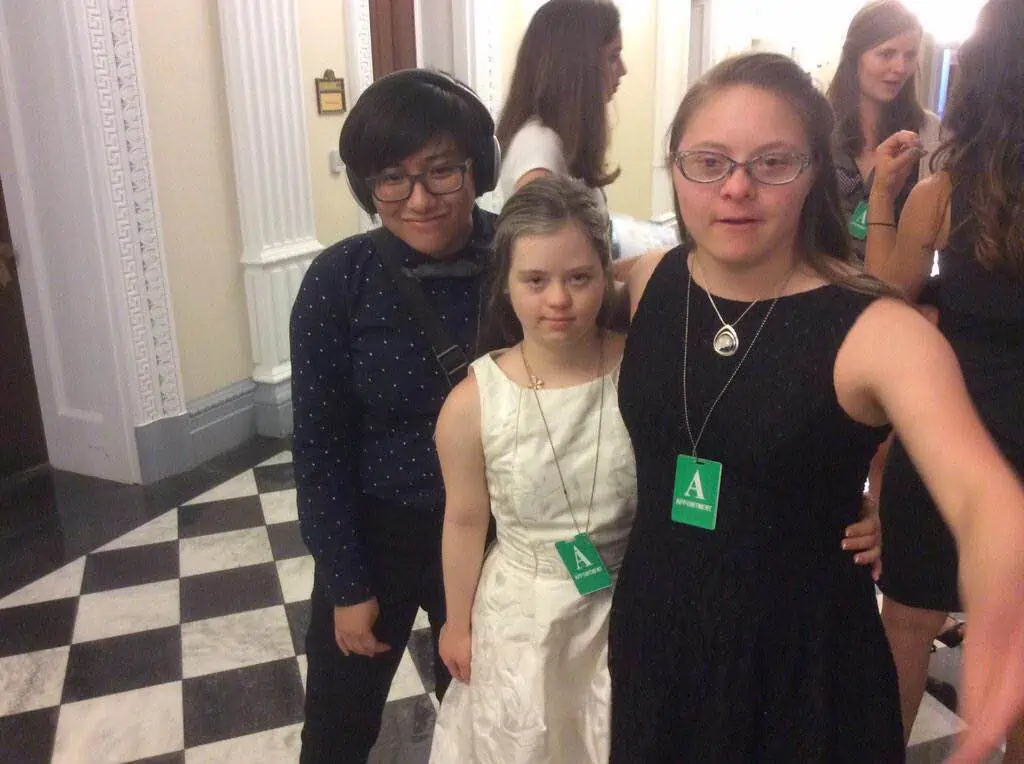 [Elly smiles and stands with Megan Bomgaars and Devon Adelman from the Global Down Syndrome Foundation.]
They know that we have had to work and fight harder to be here than some privileged people, and that we will have to work and fight harder to thrive in college. And they know that this isn't necessarily a bad thing. Jaime Casap, Chief Education Evangelist of Google, describes it as, "You aren't you in spite of your circumstances; your perspective is informed by your experiences. And it is often unique." Being Autistic has made me intensely empathetic, with acute sensitivity towards unfairness. It hurts sometimes, but it has made me a person who is quick to advocate for disabled people, which is vitally important when I am the only disabled person in the room. Basically, fight me.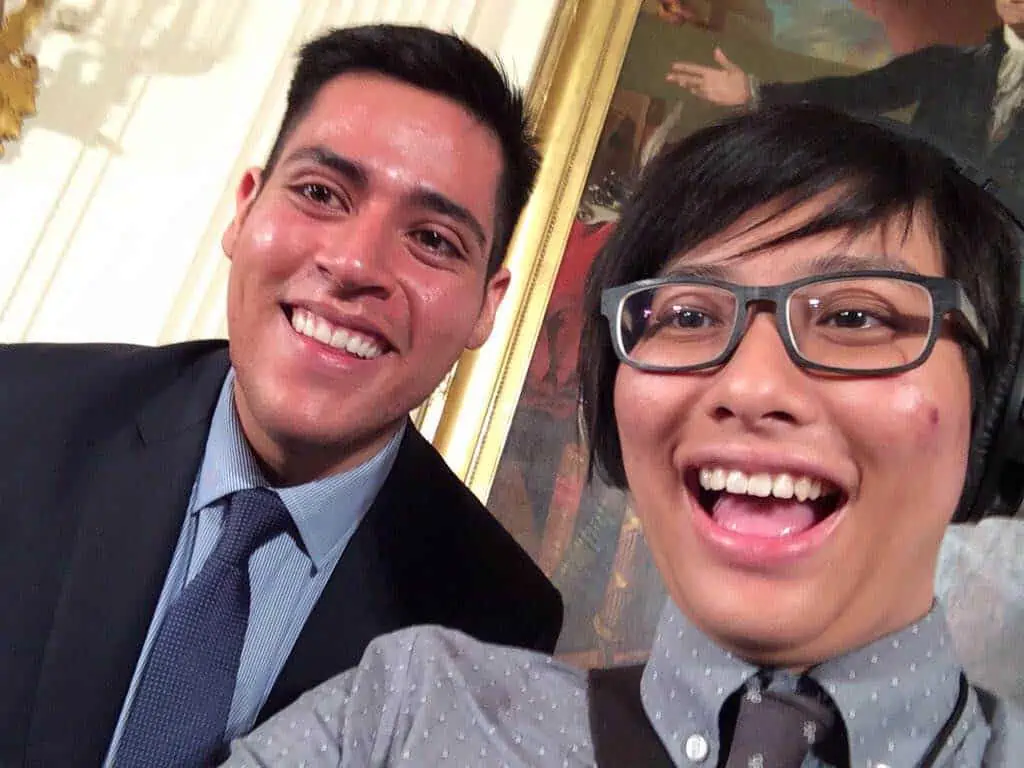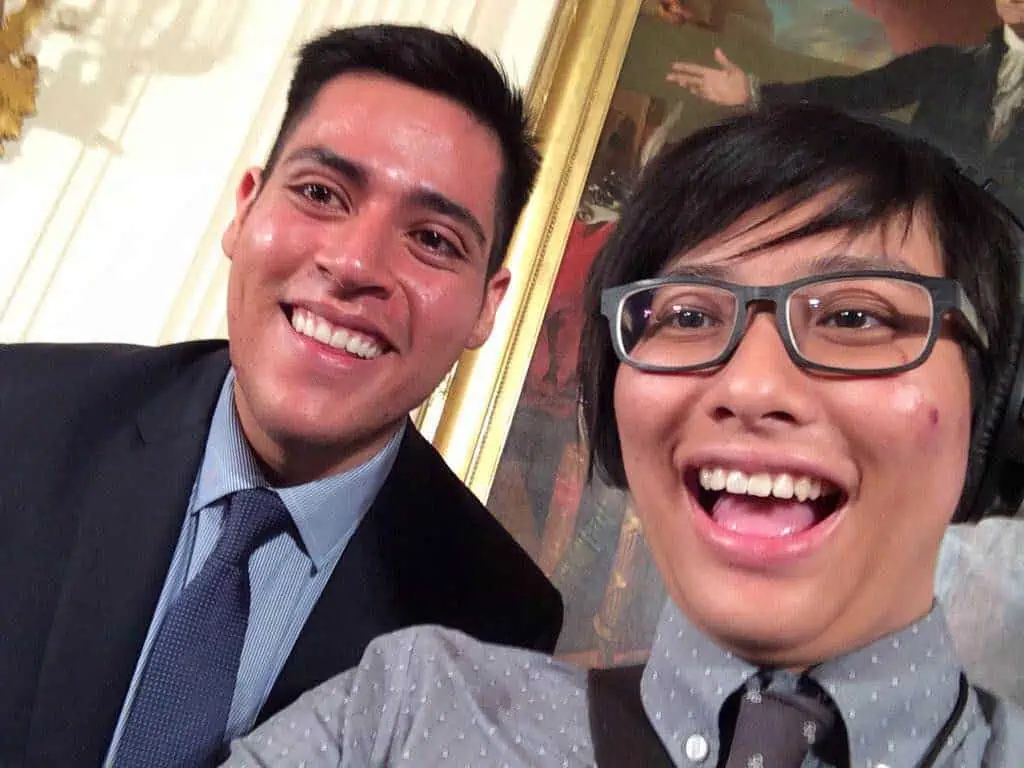 [Elly smiles alongside Manuel Contreras from 1vyG, the inter-Ivy, first-generation college student network.]
The flipside of yelling "fight me" at everything is being lost when you don't know how to fight something. Just because we're often smart enough to figure out how to get by on the fly doesn't mean that we should have to. We really should not have to furtively do huge amounts of work to blend into an environment we feel we don't belong in. "Don't let anyone tell you you don't belong here…Privileged people feel like they have a right to access help…You have to learn to ask, too," Michelle Obama tells us. As disabled people, this is especially meaningful. We have a right to get help, and that is just as important as our necessary fighting.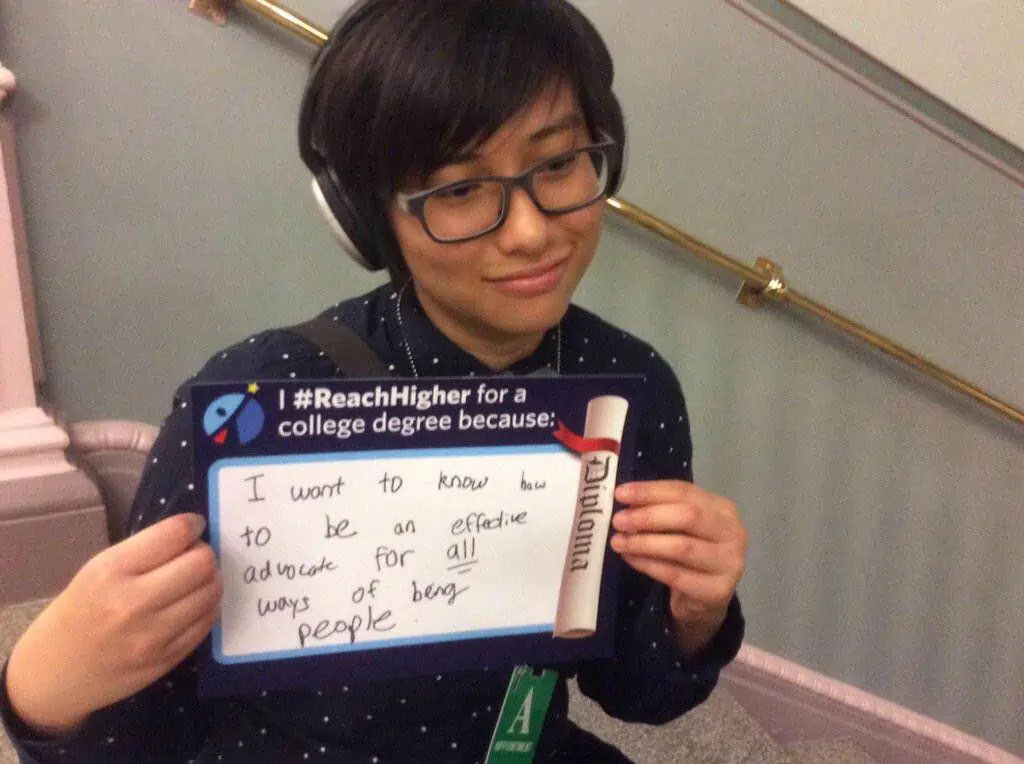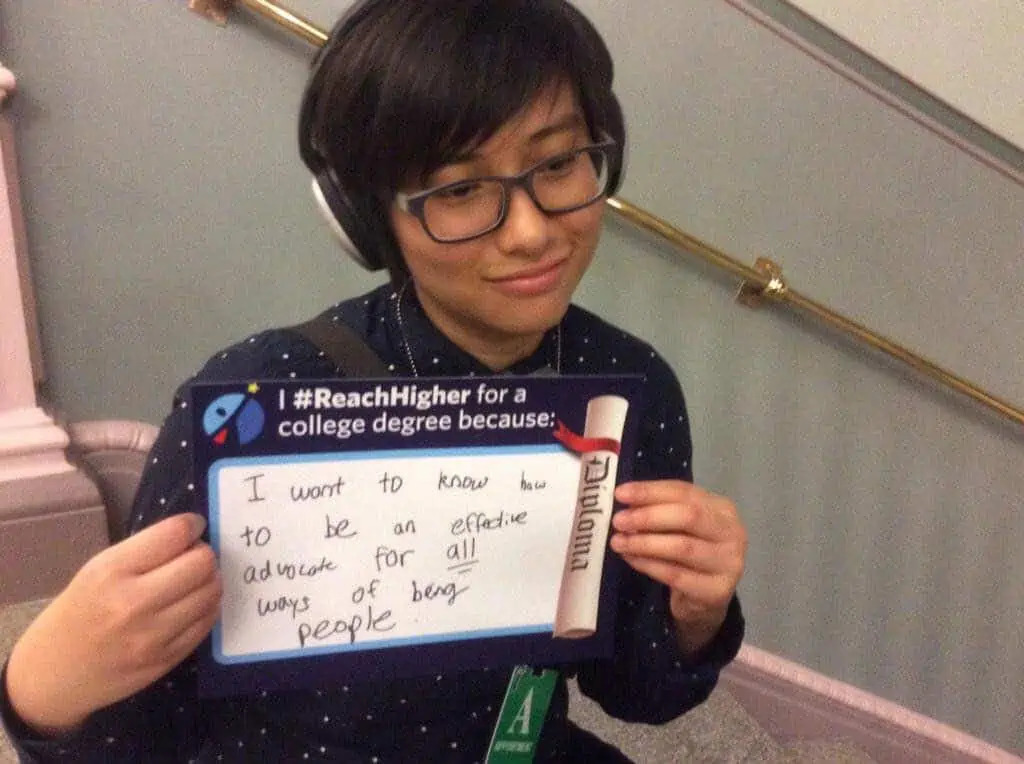 [Elly holds a sign reading "I #ReachHigher for a college degree because: I want to know how to be an effective advocate for all ways of being people"]
The only true disappointment of Beating the Odds was the notable lack of disabled people this message is so important to. There were five of us, out of about one hundred and fifty student representatives, and in a deeply unfortunate move, three of us ended up in the same small-group workshop. This material is deeply relevant to us, and we offer a unique perspective on it in panels and breakout sessions. For next year, I hope for dozens of disabled attendees, both phys dis and I/DD, all there proudly yelling, "Fight me!" We'll help you.