Day of Mourning Vigil Remarks – DC
Day of Mourning – Virtual Vigil
General News Coverage

Webcast archive: The Disability Day of Mourning
This week, we discuss the connection between disabled people killed by relatives vs. assisted suicide, and remember two brilliant advocates we lost this week.
What you need to know about Disability Day of Mourning
And how you can help.
Why the Disability Day of Mourning Matters
Mariah Kay Woods. Emma Bingaman. Jonathan Schmoyer. These are only a handful of the children under the age of three murdered by their parents for having a disability.
Claremont, CA
OPINION: Embracing grief, anger and hope on Disability Day of Mourning – The Student Life
Disability Day of Mourning is a time to remember and celebrate the lives of disabled people killed by their families. It's also a time for a range of emotions, all of which are okay.
Syracuse, NY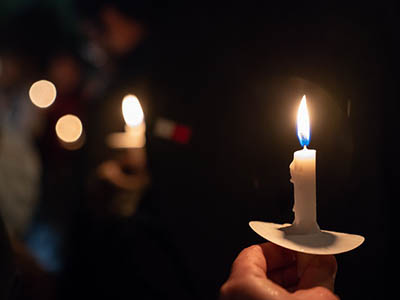 University Announces Disability Day of Mourning Candlelight Vigil
On Friday, March 1, Syracuse University will hold the Disability Day of Mourning (DDoM) candlelight vigil from 2-3:30 p.m. in Jabberwocky Café, Schine Student Center. The Disability Student Union (DSU) and the Disability Cultural Center (DCC), in partnership with the…
Rochester, NY
WXXI News
A shocking stat: In the past five years, it's been documented that more than 650 people with disabilities in the US have been murdered by a family member, relative, or caregiver – also known as…
Christiansburg, VA

NRV Disability Resource Center hosts Disability Day of Mourning
According to autisticadvocacy.org, every year on March 1st, "the disability community gathers across the nation to remember disabled victims of filicide–disabled people murdered by their family members or caregivers."
Candlelight vigil for the Disability Day of Mourning
In the New River Valley, a small group gathered to shed light on a big issue.
Vigil held for victims of violence living with disabilities
A small group gathered at the New River Valley Disability Resource Center in Christiansburg to mark National Disability Day of Mourning.
Mourning an Unspeakable Crime
People all over the country will gather Friday March 1st to show their love and support for people with disabilities. But they'll also be mourning a terrible tragedy, that only recently, has gained attention. It's called filicide: the murder of a disabled person at the hands of their caregivers. It's not a new phenomenon, but what is new is the effort to shed light on the problem and put an end to it.
College Park, MD
"The only time these names are remembered": UMD event honors filicide victims
It aimed to memorialize people with disabilities who were killed by their caretakers.
Collegeville, PA
Ursinus Participates in Day of Mourning
As part of a nationwide event, Ursinus students, faculty and alumni held a vigil on Friday, March 1, to honor the lives of disabled people killed by their…
Johnson City, TN
ETSU holds candlelight vigil for Disability Day of Mourning
Tonight is a night of recognition. Join the Neurodiversity Club at East Tennessee State University as they host The Disability Day of Mourning Vigil. According …
Moscow, ID
Disability community to host vigil for disabled victims
Local disability advocates will commemorate the lives of disabled people murdered by caretakers or their families as part of the nationwide Disability Day of Mourning with…